Providing Exceptional Vehicle Care and Used Vehicle Sales.
We provide Automotive Full-Service Repair with the newest technical equipment!
Our mission is to provide lower cost quality service. Call us for a quote at (641) 201-1999
Schedule Your Appointment Today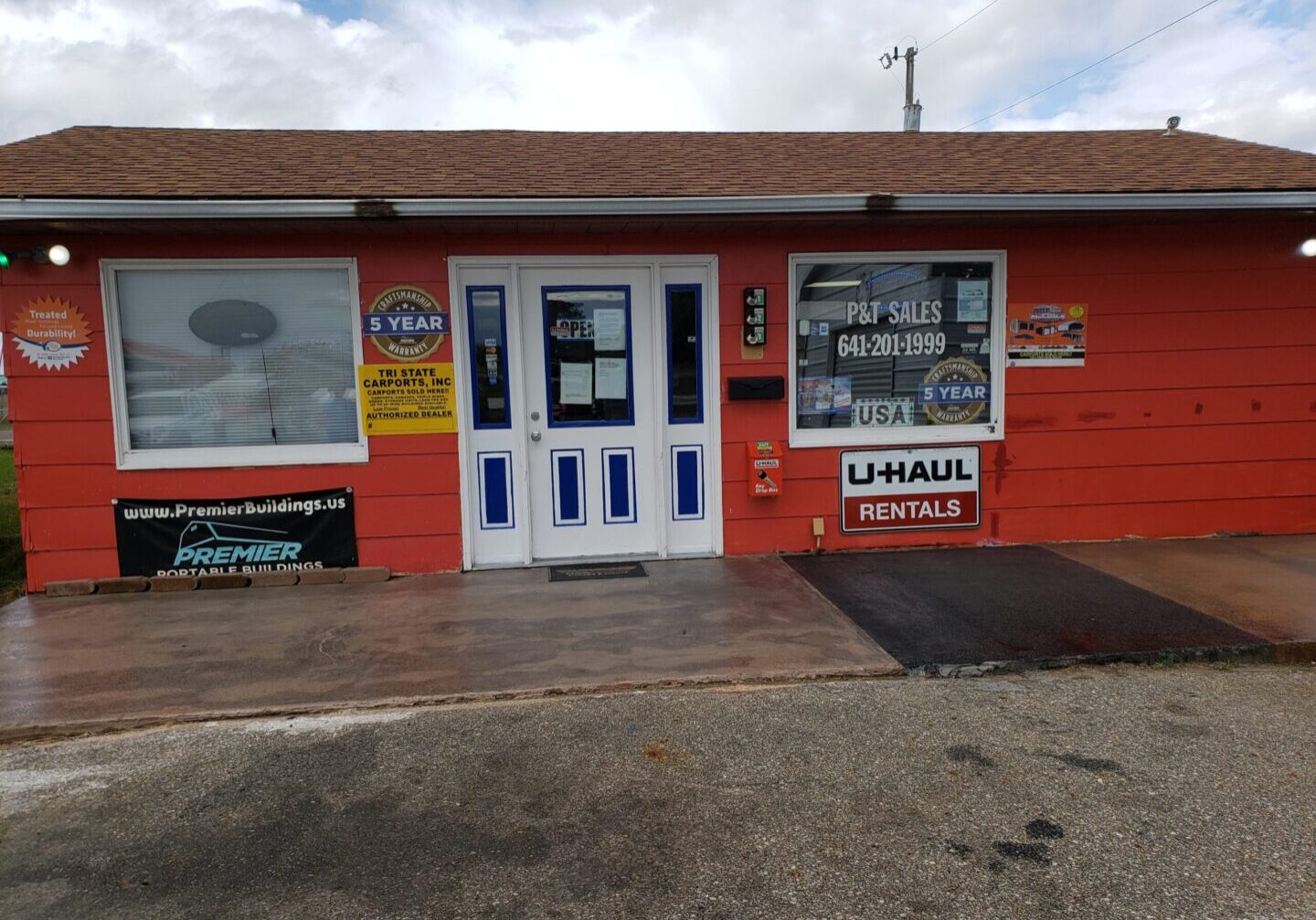 P&T Sales is comprised of a used vehicle dealership with full-service mechanical care and repair, New State-of-the -art AC equipment capable of servicing Hybrids. and tristate metal garage dealerships, secure outdoor storage, and we are an authorized U-Haul dealer and MovingHelp services.
P&T Sales continues to add High Quality, lower cost services for our customer current and future. We have Secure Outdoor Storage that was developed in September 2011, in between Mason City and Clear Lake. Our facilities are monitored with state-of-the-art technology. Our customers have 24-hour access to lighted and monitor secured outdoor storage.
At P&T Sales, we'll give you the attention and personal service that the big guys do not. P&T Sales has been in business in our current location since 2011, so let us put our experience to work for you. At P&T Sales, we provide our customers high-quality services personalized for their unique needs.
P&T Sales is proud to offer professional Towing Services as part of our comprehensive suite of solutions. With our Tow Truck's impressive 10k load rating, we can effortlessly transport vehicles, rental equipment, and more, ensuring top-tier reliability and efficiency. Trust us to provide seamless towing services for all your automotive needs, always with a commitment to excellence and value. For assistance or to learn more about our capabilities, please visit us or call (641) 201-1999.
WE SERVICE MOST MAKES ON MODELS, HERE IS OUR CURRENT LIST: Acura, Audi, BMW, Chevrolet, Chrysler, Dodge, Ford, Honda, Hyundai, Jeep, Kia, Lexus, Mercedes, Mitsubishi, Subaru, Toyota, Volvo and VW.
Our team of local car mechanics is committed to providing you with a full range of car service and repairs you need to keep your car, SUV, truck, or van running like new for years to come. Specializing in AC repair for all vehicle types, including Hybrid cars, our mechanics have the experience and the tools to conduct both basic service maintenance and complex engine repairs. We provide you with a detailed, accurate, and fair estimate before any repairs are performed on your vehicle!
CURRENT SERVICES WE OFFER AND WHEN YOU BRING US YOUR CURRENT ESTIMATE WE CAN MEET OR BEAT IT! ULTIMATLY SAVING YOU MONEY AND THAT IS PART OF OUR MOTTO AND MISSION! :
AUTOMOTIVE REPAIRS, ALPHABETICAL LIST OF OUR SERVICES:
AC (HVAV) REPAIR/REPLACE
AFTERMARKET ACCESSORIES
AIR BAG CONTROL MODULE REPLACEMENT
AIR BAG CRASH SENSOR REPLACEMENT
AIRBAGS DIAGNOSTICS
ALARM SYSTEMS SERVICING AND REPAIR
ALIGNMENTS
ALTINATOR DIAGNOSTICS
ALTINATOR SERVICING AND REPAIR OR REPLACEMENT
AUTO GLASS REPLACEMENT
AUTOMOTIVE COMPUTOR REPROGRAMMING AND REPLACEMENT
BATTERY SERVICING/TESTING
BATTERY (ELICTRIC VEHICLE)
BATTERY (STD VEHICLE)
BELTS, HOSES AND FILTERS
BRAKES SERVICING AND REPAIR
BRAKES PAD REPLACEMENT All
BRAKES PAD REPLACEMENT BACK BOTH SIDES
BRAKES PAD REPLACEMENT FRONT BOTH SIDES
BRAKES ROTORS,AND CALIPERS REPLACEMENT
CATALYTIC CONVERT REPLACEMENT
CHECK ENGINE LIGHT DIAGNOSTICS
CLUTCH REPAIR OR REPLACEMENT
COOLING SYSTEM DIAGNOSTICS
COOLING SYSTEM REPAIR OR REPLACEMENT
CV AXLE REPAIR OR REPLACEMENT
DIAGNOSTIC DISCOVERY SERVICES
DRIVE TRAIN AND TRANSMISSION
ELECTRICAL DIAGNOSTICS
ELECTRICAL SYSTEMS SERVICING AND REPAIRS
EMISSION CONTROLS DIAGNOTICS
ENGINE AND POWER-TRAIN MANAGEMENT & REPLACEMENT
ENGINE REMOVAL AND REPLACEMENT
EXHAUST SYSTEMS INSPECTION
EXHAUST SYSTEMS REPAIRS OR REPLACEMENT
EXTENDED WARRENTY REPAIRS
FACTORY SCHEDULED MAINTENANCE SERVICES
FLEET VEHICLE SERVICING
FLEET VEHICLE REPAIRS
FLUID EVACUATION
FLUID MAINTENACE AND LEAK INSPECTIONS
FREON FLUSHES
FRONT END AND SUSPENSION
FUEL SYSTEMS: AIR INDUCTION AND FUEL INJECTION SERVICING AND REPAIR
BREATH ANALYZER INSTALLATION, MAINTENANCE AND REMOVAL
HEAD GASKET REPLACEMET BOTH SIDE
HEAD GASKET REPLACEMET ONE SIDE
HEADLIGHT REPLACEMENT OR RESTORATIION
HEATER REPAIR/REPLACMENT
HYBIRD VEHICLE REPARIR AND MAINTENACE
INSTRUMENT PANEL, GAUGES AND WARNING LIGHTS
LIFETIME BRAKES WARRANTY "PART DEPENDENTS"
LIGHTING AND HORNS
LIMITED TIRE SALES AND SERVICE
MUFFLER AND EXAUST REPLACEMENT
OIL CHANGE
STANDARD, SYNTHETIC OILS ADN
DIESEL OIL CHANGES
POWERTAIN SYSTEMS SERVICING OR REPAIRS
RELAYS AND MODULES
REPAIR
SCHEDULED MAINTENANCE SERVICES
SHOCKS, STRUTS, TIERODS INSPECTION,
SHOCKS, STRUTS, TIERODS REPLACEMENT
SPARK PLUG REPLACEMT
STARTER DIAGNOSIS, REPAIR OR REPLACEMENT
STARTING AND CHARGING SERVICES
STEERING ASSMEBLY
STEERING AND SUSPENSION
INSPECTIONS AND REPAIRS
TIMMING CHAIN DIAGNOSIS AND REPLACEMENT
TIRE REPAIR AND REPLACEMENT, TIRE BALANCING, TPMS SERVICING AND
TIRE REPAIR, MAINTENACE AND SERVICING
TRANSMISSION AND DRIVETRAIN REMOVAL AND REPLACEMENT
TRANSMISSION AND DRIVETRAIN REPAIR AND SERVICING
TUNE UP SERVICES
IGNITION REPLACEMENT AND SERVICING System
WATER PUMP REPLACEMENT
WHEEL BALANCING
WINDOW MANUAL AND ELECTRICAL REPAIR
WINDOWS AND GLASS CHIP REPAIR
WINDSHIELD CHIP REPAIR OR REPLACEMENT
WIPER AND WASHER SYSTEMS REPLACEMENT AND REPAIR
At P&T Sales, we specialize in matching Mason City area drivers with the vehicles they need, at the best rates available. We work hard to provide drivers with reliable transportation at low prices, and that's why our clients come back again and again for their car needs.
Our reputation speaks for itself, and over the years, we have come to be known as the place for quality, reliable used cars, trucks and SUVs. Buyers come from throughout the Mason City area and its suburbs just to experience our superior service! Those buyers know that when they deal with P&T Sales, they will get a fair price, taking the pain out of car buying and making the process simpler.
At P&T Sales, we offer new inventory daily, including vehicles in every price range. That said, we are proud to specialize in low to mid-priced vehicles, and we pride ourselves on our affordability. No matter what you are looking for or what you end up buying, you can rely on P&T Sales for quality service. We bring our ethics and our values to every deal we make, and we are not satisfied until you are.
At P&T Sales, our mission is to provide real value for our clients. We treat everyone - customers, employees, partners and others - with the utmost respect. We have developed a strong foundation built on efficiency, professionalism and reliability, all with the goal of building one of the best and most admired used car dealers in the region.
We invite you to contact us today. We will return your phone call or email quickly, and when you buy from us once, you will see why so many Mason City area drivers come to us again and again.
Come in today and see how we can help you with used vehicles, new , outdoor storage, or  along with automotive services. We have you covered.
However, if we do not have what you are looking for, we will find it! We know what we are doing, and we are dedicated to keeping you safe on the road and providing great deals. Your satisfaction is our highest priority! P&T Sales Financing Application.
Schedule Your Appointment Today